How to Dress Classy Every person has a personal style. You just have to figure it out, understand it, and live it. Ideally, it projects your personality and mood and, at the same time, reflects your inspirations, lifestyle, interests, and experiences.
Once you determine your personal style, knowing how to look and feel great can be made a lot easier. Whether you prefer street, bohemian, classic, or Afro chic clothing, you can make your style look unique and classy whenever the occasion calls for it.
Creating sophisticated and unique outfits is all about putting together essential elements and ensuring that your confidence shines through. Here are six style tips for looking effortlessly classy and showing off your personal style.
1. How to Dress Classy Choose classic fabrics
Timeless clothing made of classic fabrics like cotton, linen, and wool will last long. And that is something you should have in your wardrobe.
Luckily, these fabrics offer variations today, allowing you to expand your closet. For instance, denim is an example of cotton that cuts across different style lines, from minimalist to Boho to street fashion. On the other hand, cashmere is a type of wool that won't pill with age and feels fantastic against the skin. Cashmere sweaters like V-necks, crewneck pullovers, and cardigans pair perfectly with denim jeans or tailored skirts and pants.
If you want something unique, denim jackets with patches of African tribal clothing by Finchitua must be in your wardrobe. They are not just timeless fashion pieces but are also versatile garments that work with almost anything, and for any occasion. You can use these as a typical jacket, with a hoodie, or under your favorite coat. 
Must Read: Fashion Trends for Women 2021
The key to preserving the quality of these fabrics is to read the labels and maintain the clothes properly. Though wrinkle-free cotton is a trend today, some cotton items should be ironed. On the other hand, linen and wool should be hand-washed and dry-cleaned. Make a mistake, and your garments could wear instantly and may even shrink in half.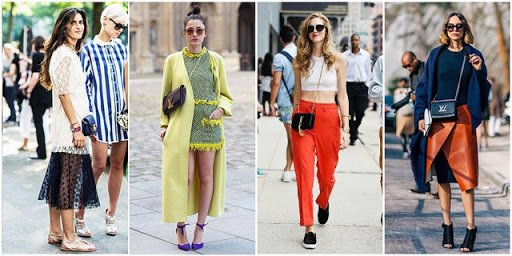 2. Go for solid neutrals (when in doubt)
Bold prints and patterns work best to achieve a classy, sophisticated look. But if you are not comfortable with these patterns, go for solid neutrals. They are not just readily available in most fashion stores, but you can also pair them easily with anything.
The common neutrals are cream/beige, grey, black, and navy blue. Monochromatic allows you to wear different shades of the same color and yet remain classy. You may also add some accents to transform your style into something dazzling, such as a pair of red pumps and a scarf. If not, opt for neutral tees with a tribal patterned printed pocket.
3. Make sure it fits you perfectly
Wear something that can show off your figure, but is not too tight. For instance, sweaters, blouses, and blazers should follow your curves. Skirts must hit below or just above your knee as a classy dress should. Skinny pants and maxi dresses in classic fabrics are likewise acceptable.
If you bought a fashion piece that doesn't fit you well, don't hesitate to have it altered by a tailor or dressmaker. High-quality clothes can last for decades, and it is a small investment to pay for the needed alterations. It is far better than replacing poor-quality garments every two to three years.
Still, not everything you wear should be form-fitting and perfectly tailored. You can pair unstructured garments for a relaxed vibe. For instance, you can pair white tees with your denim jacket or a maxi skirt with a white button-down shirt.
Must Read: Key Points To Consider Before Buying Women's Sleepwear Online
4. Expose only the right amount of skin
Dressing with elegance and individuality requires some modesty, and this can mean no miniskirts or revealing tops. Necklines are often crew neck, V-neck, or collar. For some occasions, you can try scoop and square necks. The key is to keep your belly button and cleavage covered. Moreover, dresses and armholes on blouses must not reveal your undergarments.
When in doubt, make sure to reveal less. With the right fit, you can still look sexy and stylish without exposing too much skin.
5. Accessorize
When aiming for a classy, unique style, simple jewelry is a must. Here are some recommendations:
Earrings – diamond or pearl studs, small gold or silver hoops
Necklace – long pendants, cross, pearls
Bracelet – tennis bracelet, gold bangles, watch
Wearing a scarf is also a great way to add visual interest and color to your outfit. Go for bright hues or those with interesting patterns. Solids, stripes, and florals are your best bet.
The right shoes are essential, too. Boots, pumps, or ballet shoes in solid neutrals are great options. But it does not hurt to add a pair of red shoes or animal prints to your wardrobe.
6. Style your hair and wear makeup
Complete your style by styling your hair and putting on some makeup.
Find a hairstyle that you love and is easy to do, especially if you have a tight morning schedule. Stylish hairstyles include a sleek bun and ponytail. But if you don't like styling your hair, an easy haircut is the best way to go.
As for your face makeup, focus on your cheeks, eyes, and lips. Highlighting these three features makes a huge difference in your overall look. You can add some blush to bring dimension and life to your face, wear mascara to open up  your eyes, and use a bold lipstick to emphasize your lips.
The key to achieving How to Dress Classy, unique style is to keep everything simple and neat. The clothes must be flattering on you, and the patterns and colors need to be balanced. Before wearing any garment, check for loose threads, frayed hemlines, missing buttons, or holes. Avoid using too many glittery accessories – stick to simple jewelry instead. Lastly, go neat and clean with your hairstyle and makeup.
Contrary to what most people think, classy and unique outfits are not expensive. You can find affordable classic fashion pieces from luxury fashion stores. And since they last for years, you may even find great bargains at thrift shops. Buy quality basics that do not just suit you perfectly, but can also be mixed and matched easily with anything.
If you are looking for private label clothing manufacturers for your own fashion brand just go through wings2fashion a leading women's clothing manufacturers in India.