Ongoing pandemic has brought a season like no other, the previous fashion is yet to be followed much. Everything that was bought and not used up is now becoming the new latest fashion trends for women in 2021. The work from home routine has brought a colossal impact on what designers turned out. The drifting moods and comfy home sitting routine requires wide and baggy clothes, bold strides and floaty pyjamas.
The world is no longer into fitted and bold trends women are more comfortable with large and in charge blazers with blue bold bags and sleek face masks. The most influenced trends are playing a huge role in bringing up the fashions for the year 2021. The topmost spotted fashion trends for women in 2021 are kicking off this summer/spring season.
Loose trousers and baggy shirts
latest fashion trends for women in 2021 Baggy clothes are back in fashion for the spring of 2021. The 00" s style fashion is in trend again. These low rise trousers are found to be the most comfortable thing for the year 2021 after the ongoing pandemic work from home routine. You will find these more flattering than the low waist pants. These pants will help you choose your comfortable sitting and resting position without getting hitched, unlike the tight fitted clothes you wore in your office.
Oversized shoulder pad boyfriend's jacket
80's shoulder pads are the trend of the season now. These are not just the celebrities who are spending on these oversized shoulder pad boyfriend's jackets but the local people are also loving it. The decades-old trend is boastfully returning in this season. Hailey Bieber, Megan Fox, and Ciara have already marked this a trend for 2021. The celebrities who are into this fashion were recently seen during this fall/winter 2021 from the collections of Gucci and Burberry.
Blazers over the hoodie
Match them with the high-rise sox and oversized sneakers for a super-casual London look. One of the most popular current fashion looks. This is not just a street style but your overall primary established look. Put on a blazer n to your quarantine hoodie piece, to give life to your wardrobe old pieces. It works wonders for oversized floaty blazers. You can make this look with the tailored thin hoodies so you might not mess up with any weather changes.
Vests
As fashion has been the confusing word for 2021. The best part is vests are easy to put on and they can go with your every outfit whether you go for the sweat pants or the classy street look. If you wear a button-down shirt or a leathery suit, vests simply make them more dazzling. Since vests are a special item, you should not miss them this season. S, if you want to markup things well don't hold back with the accessories. Take a hat, long boots, and layered necklace.
Cropped tops Latest Fashion Trends for Women in 2021
For an extra cute look, mix up your cropped tops with sweatpants or short skirts. Nothing can beat the heat for this cropped top fashion in 2021. If putting on this cute hot fashion to you feels too much, then you can choose over a pair of skinny knit with your favorite jeans. From stylish printed, embodied, embellished, and basic button-ups there's a lot of choice for everyone. 
Pastel tones and yellow bags
Pastel tones have dominated this year by continuing another trend. These pastel tones are perfect for your summer/spring collection. The soft shades give a relaxed feel. Choose a boiler suit with soft lavender and cool mint shades and buttery hues for an oversized trench coat with the overall aesthetic look that will remain the coolest trend of this year.
Checkerboard prints
Checkerboard prints are fashion's favorite thing in 2021 and the latest fashion trends for women in 2021. Its presence in the market for this summer/spring season is not a new thing. It is followed by the previous fashions that don't fade. It's been a never out of fashion thing for brands like Venus for a long time. In the winter's latest fashion trends for women in 2021, we saw coats, handbags, and other accessories which were also the following fashion trend in the Netflix series, "The Queen's Gambit". In some cases, fashion fades as quickly as it rises but here it's not the thing, checkerboards can't be predicted to be pale any sooner. 
White knee-high boots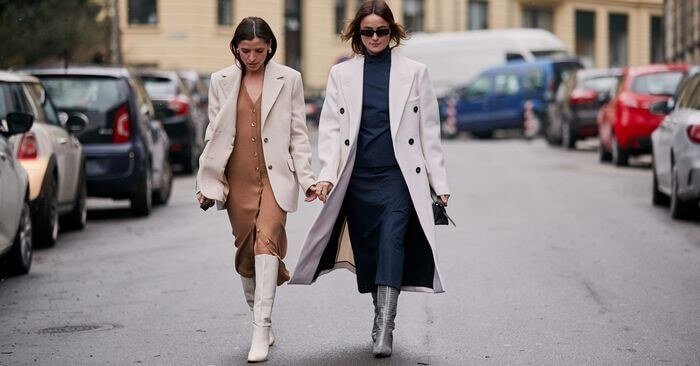 Knee-high boots will always be an essential style that adds value to your outfit. If you want to look classy and particularly forward, white knee-high boots are made for your look. While white is always the top-notch fashion of all the other shades, you can be classy, sassy and even make up for your soft appearance. This summer white boot is what will make your steps sound confident and go with any outfit you choose to wear.
Face masks
Face masks are more of a fashion than an urgency. The matching outfit masks have made the choices more difficult to select anyone going with the outfit. Currently black is most of the fashion trends because they easily go with any outfit style and color. Since pandemic is not leaving, masks have become an important piece of outfit and that takes you to choose between different colors and designs. Keeping many black masks in your wardrobe will help you save time and energy for choosing the matching pieces with your dress.
Verdict
That's the proven thing that women are born to shop. Whether you look at today's world, or the magazines of the 19th century all you can see is women sticking with the latest fashions. Many trends come up at the same moment so it somehow becomes a little bit difficult deciding which trend to follow. Don't get in a fluster, Net-A-Porter has some super sweet options at the most affordable prices.
If you are a fashion enthusiast, you should definitely stick with this brand, so you can get further updates on what's trending and the latest fashion trends for women in 2021. check here Numensa Pty Ltd
If you are looking for clothing manufacturers for startups just visit us and inquiry now we are leading private label clothing manufacturers and exporters in India.