Shines, transparencies, fresh clothes, bright colours… In summer we feel like going out to enjoy the day and the night, and if it can be at a party, much better considering swimwear and bikinis are not the only options of trendy summer outfits. But, With high temperatures looming, sometimes it becomes a little difficult for us to choose the ideal outfit.
Exuding elegance, sophistication and your sexiest side is possible if you have the right clothes. Below, Sainly have made a selection of outfit ideas for going out partying in summer that will not leave you indifferent.
Keep an eye on the newest styles trendy summer outfits and draw inspiration from our suggestions; you'll adore them for sure. And which one do you prefer?
Trendy Summer Outfits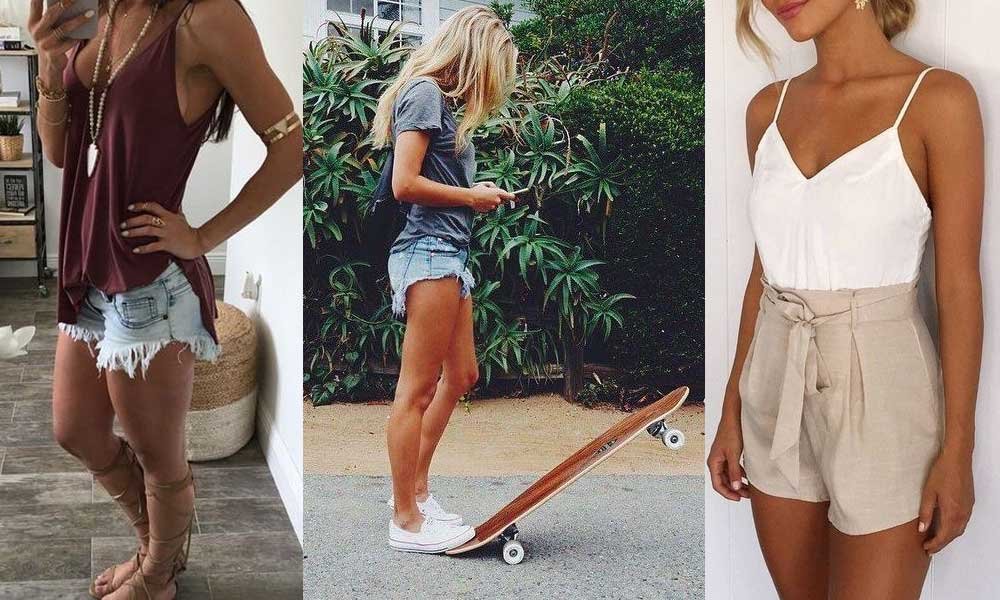 Total black
Who says black is not a colour suitable for summer? Total black outfits are the best to exude elegance and the colour black will be your great ally if you want to go out partying at night.
From a short dress to skinny jeans combined with a black top, garments of this colour are, without a doubt, a safe bet. Powerful, sexy, elegant and sophisticated, all using a single colour: black for partying. A classic that doesn't fail!
Cool dresses
Who says you can't look elegant and feel fresh and comfortable going out to a party? If you are one of those who prefer to go for more classic looks, sign up for this outfit idea: wear fresh dresses.
There are many prints, ethnic, floral, Hawaiian, or even monochromatic dresses that will enhance your tan and allow you to be comfortable as well as ideal for going out to a party.
You can find long fresh dresses, ideal for summer nights, or in a shorter version, if you want to bring out your most spicy and sexy party point. Which version do you stick with?
Ibizan look
And although we have talked about the colour black as the king of the night, we cannot ignore that white is a must in summer. If you want to enhance your tan, the Ibizan look is for you.
From white openwork dresses, and flowy white pants and tops, to long dresses or blouses, the colour white is perfect for going out during your vacation. Bring out your style, and look tan, opting for clothes of this colour, in the purest Ibiza style. Irresistible! trendy summer outfits.
Are you looking for outfits for them? Then don't miss this article on Festival Look Ideas for Men.
Bermudas and top
If you are one of those who prefers to be comfortable, well-groomed and trendy, this outfit idea for going out to the party is for you. Go for Bermuda-style shorts and combine them with a blouse or a crop top. They are ideal for enjoying summer nights and you can add a lot of style if you combine them with wedges or high heels.
In addition, you can opt for nude or linen options to adapt to a more romantic style or bring out the artillery with bright and striking colours. Whether it is a day or night party, this look is versatile and ideal for any occasion.
Slip dress
One of this season's items is the slip dress, a midi-length slip dress that will make you the queen of any party, and will also get you out of more than one trouble. You can opt for a slip dress in a single colour or with an elegant print.
The good thing about these sophisticated dresses is that they are very versatile and they become the ideal outfit for going out to a party if you combine it with high-heeled sandals or with flat shoes if it is a beach party. It can't be missing from your suitcase!
Lingerie mini dress
And continuing with one of the trends of the season, if you want to succeed at parties on hot summer nights, the mini slip dress is a safe bet for you. For those who cannot stand high temperatures and want to enjoy an informal party, this dress is perfect. In addition to being a success, it is cool and super sexy. Do you dare to try it?
Glitter
This season you can't miss the shine at summer parties. So take note because glitter clothing is the latest trend and should be present in any way: mini dresses, skirts, blouses… Everything is allowed!
In addition, you will find options in white, silver or other more striking colours such as pink. Glitter garments are a must-have for going out partying in the summer. Safe bet!
Transparencies
Additionally, transparency has emerged as this season's newest fashion. Therefore, we strongly advise you to take advantage of them and improve the seductive and sophisticated aspect that they may offer. The idea is to use them at an appropriate time and, above all, wear the most appropriate clothing underneath for each occasion.
For example, you can opt for transparent dresses and a swimsuit underneath for a daytime party, or transparent T-shirts with simple underwear at night. Get the full potential out of transparent garments and…You will succeed!
Cut-out pattern
For those passionate about fashion, who cannot give up dressing in the latest fashion, this outfit is perfect for them. The cut-out pattern has become a reference of the season. These are clothes with well-placed cuts that give every design a unique touch.
Nowadays you can find everything from blouses or tops with these patterns to dresses. If you want to enjoy a party this summer and want to enhance your sexiest side, this type of design will be ideal for you trendy summer outfits. Do you dare to show it off?
Cowboys
And if you don't want to complicate your life too much, you want to feel comfortable and pretty at the same time, don't give up the classics. Jeans, as always, are a great ally, also for going out partying in summer. Jeans are versatile and can be combined in millions of ways to adapt to every occasion.
For example, a winning combination for a night out could be a set of jeans and a glitter top, stunning shoes or an impressive piece of jewellery. You will feel amazing and showcase your personality if you put your pants together nicely. The classics never fail!