Kurti manufacturers: Every girl cherishes to wear something stylish and cool. Choosing the right outfit is a difficult task, but if you are going for a Kurti then it will be a perfect pick. The attire provides you with ethnic as well as a touch of Indian tradition and culture at the same time. You can flaunt the look with elegance by wearing a beautiful Kurti. Wings2fashion is one of the leading Kurti manufacturers in Delhi, India.
In this modern and stylish era, girls love to wear printed fancy Kurtis with different pants and jeans on casual meets and other occasions. Pairing the Kurti with denim jeans is the favorite attire of every girl as they can wear it on a daily basis and also choose them for college and offices. Skin-fitted jeans and a beautifully printed Kurti is eligible to provide you with a fabulous look.
Kurti Manufacturers & Supplier India
Check out this trendy Kurtis that can be paired with denim for a perfect look. As you get options for a number of varieties and patterns you can pick a favorable pattern for yourself.
Front slit Kurti with Blue Jeans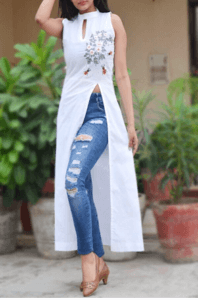 Slit Kurtis is one of the most famous ones nowadays. Whether it's a party or a festival they suit well to each and every occasion. This front slit Kurti gives a stylish and attractive look to the wearer. This white slit Kurti made of cotton fabric is just a perfect pick for a hot and bright day. It gives you a cool and breezy feel and a fabulous look. Floral and leaf embroidery at the front with a keyhole and stand collar is giving the outfit a graceful appeal.
The sleeveless pattern and simple neck design show the elegance of the outfit. Pairing it with funky blue denim and a perfect pair of shoes is looking awesome. A simple hairstyle and neutral makeup is completing the overall look.
Long Printed Kurti with Jeans
A simple straight Kurti with side slits and elegant prints is a cool and classy pick for the ones who love pastels and sober designs. This eye-catchy Kurti with a high collar neck and two-fourth sleeves is making a drastic combination with the dark blue denim. Going for a brunch with friends then do pick this one to be the highlighting one among all the others. It is made of lightweight and breathable fabric cotton that will give you a comfortable feel.
White shoes and open hair will be a complimenting match with this Kurti. A pair of oxidized earring and light makeup is enough for this attire. You can add a purse to keep your cards and mobile phone. So choose this one for a tremendous look.
Must Read: How to Improve your Dressing Style | Women Fashion
Kurti with a Jacket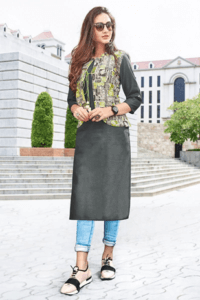 For colorful vibes and an attractive look, you can opt for this beautiful Kurti with a printed jacket. The Koti has multiple prints and a tie-up in the front with hanging tassels. The plain straight Kurti with long sleeves and simple neck paired with this light-colored short and the sleeveless jacket is making a perfect match. Pairing it with skin-fitted light blue denim and a pair of shoes gives the wearer a stunning look. Wearing it at lunch or family gatherings will make you look perfect.
Some accessories like a beautiful pair of earrings, rings and a watch make you look more enlightened. Open hairs or a French braid match perfectly with this outfit. The straight pattern suits every body type and the dark color suits every skin tone.
Must Read: How to Dress Up and Dress Down Dungarees
Flared Kurti with Up and Down Pattern
Pick this one for a formal look. This plain denim Kurti in up and down the pattern and a nice flare will give the wearer a minimalistic look. This simple and plain Kurti with a high neck and sleeveless pattern can be a perfect choice for official meets. It is a unique combination of traditional and ethnic wear. Stand collar with buttons in the front is adding glamour to the attire. Paired with white funky jeans is a delightful combination.
Simple hairstyles always look more attractive with Kurtis. Open hair with a middle partition, a pair of oxidized earrings with studded colorful stones, and heels will give an ideal look to the wearer. Do not over-accessorize yourself as it can ruin your look.
Must Read: How to find clothing Manufacturers in India
Short Kurti with Denims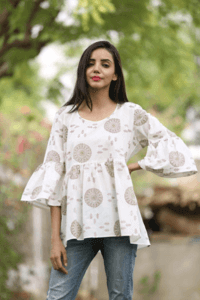 Choosing something different can provide you with a quintessential look. Short Kurtis are the perfect ones to provide you with a smart and modern look. This one with a flared pattern and long bell sleeves and a simple round neckline is making an adoring Kurti. This Kurtis is perfect for girls with short height as it makes them look taller giving a voguish look. Kurtis with pastel color and block prints are the most attractive ones.
Printed Kurtis looks awesome when paired with denim jeans. They are worn for an adoring look and give the wearer a smart and exclusive look. Light and pastel-colored Kurtis look chic when they are paired with denim jeans.
Kurtis has always been the most admired attire by each and every lady due to its comfortable characteristics. Many women wear them on a regular basis and the heavily embellished ones are chosen for parties and festivals. The outfit is available in a range of fabrics and can be paired with different types of pants or salwar according to the pattern of the Kurti. The varieties vary from short to long and straight to flared and you can pick whichever you like.
In this era of online shopping, you can get some beautiful and stylish wholesale Kurtis at low and discounted prices from websites. They have the latest and trending patterns with a lot of color options and designs. You can save time and money by choosing the option of online shopping. Kurtis is a perfect alternative to salwar suits and the best part about it is that it can be paired with stylish pants or jeans for a ravishing look. So go ahead and choose the perfect one for yourself to flaunt your diva look. You can visit Women Clothing manufacturer and Kurti Manufacturers in Delhi NCR at Wings2fashion.