Wholesale salwar kameez in USA Salwar kameez is worn as casual wear by women in the Asian subcontinent. They are suitable for women of every age and of every body type. The outfit is available in different types of patterns and fabrics that can give a drastic look when worn. It consists of straight patterns, flared patterns and other asymmetrical patterns so that you can flaunt yourself wherever you wear it.
The ones that are worn on a regular basis are made from lightweight fabrics such as cotton, georgette, and linen as they are comfortable and have the ability to control moisture so that you feel cool and fresh. For special events and functions, beautifully embellished outfits are the best.
Give your regular salwar kameez a twist by opting for something stylish and fancy. Style your salwar kameez with utmost elegance and get a fabulous look while wearing it casually or occasionally. Here are some ways in which you can style your salwar suit and get a delightful look.
7 Ways to Style your Regular Salwar Kameez
Must Read: How to Pick Right Yoga Outfits for Women?
Opt for a Stylish Kurti
The kameez or Kurti is the main piece of cloth in the entire attire. It can be long, short, or flared depending upon the design and pattern in which it is made. It may have prints or maybe embroider with beautiful zari work, aari work or thread work for a glamourous look.
You can opt for a slit kurti that gives you a modern and stylish look. Give your outfit a unique look by wearing a trail kameez with matching salwar. An a-like hem kurti with long sleeves and beautiful mirror work makes an awesome outfit.
Try Different Salwars
A variety of salwars are available in the market and nowadays women tend to pair this stylish salwar with different types of Kurti for a flawless look. Short Kurtis having side slits or the flared ones can be paired with palazzo pants or sharara. Long and straight Kurtis or Anarkali Kurtis are worn with churidar salwar, leggings or straight pants giving a ravishing look to the wearer. A narrow pant having a small side slit and some embroidery work at the ankle paired with a slit Kurti makes a super gorgeous party wear attire.
Must Read: How to Dress Up and Dress Down Dungarees
The Neck and Sleeve Designs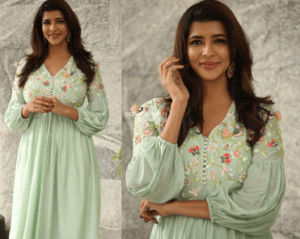 You have many choices regarding neckline and sleeve patterns. Classical necks such as round, square, and v-neck designs are the most preferred ones for an elegant and adoring look. Women having narrow shoulders should try a high neck or collared designs such as boat neck, stand collar, or necks with a keyhole for a stylish and modern look. Long sleeves having laces or borders at the wrist gives an efficient look. Nowadays bishop sleeves are trending very much, they are flared and pleated having a loose pattern that makes an interesting Kurti.
Must Read: Winter 2020 Fashion – Here's What I'm Wearing This Season
Drape a Beautiful Dupatta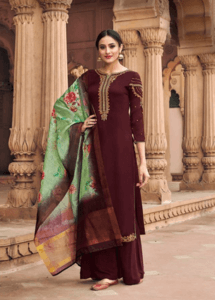 Wholesale salwar kameez in USA
You can choose to wear a contrast dupatta for a more glorifying look. A banarasi silk dupatta having intricate designs done with golden threads or silver threads paired with a plain salwar kameez or with the ones that have fewer embroidery work giving you a gorgeous look. A colourful dupatta having golden pearl lace at the edges can be matched with a bright coloured cotton salwar suit. A floral printed dupatta paired with a stunning georgette salwar kameez can be a great pick for parties or festivals. Wearing it on a friend's sangeet will also be a great choice.
Add Cape or Jacket For a Fabulous Look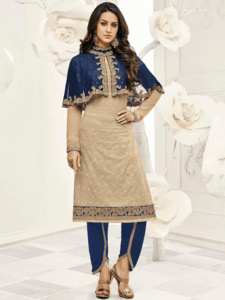 A beautiful cape or shrug detailed with some embellishments can give a new look to the outfit. A net cape that is worn above the Kurti is round in pattern and has embroidery work done with stones and diamonds as well as some laces at the end of the cape that makes it more attractive. It is usually paired with flared Anarkali Kurtis and is a perfect choice for the reception party. A long shrug or jacket paired with a plain Kurti can add a twist to your boring and simple Kurti. Choose the one that has a tie-up in the front and embroidery work for a shimmery look.
Accessories to Match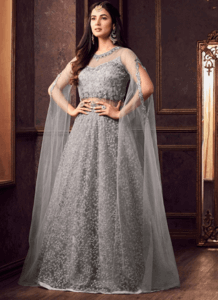 Some stunning jewellery effect is very necessary for this outfit. These accessories will give you a more glowing look. One main accessory is a pair of earrings. They are attractive and interesting that are found in different metals and are decorated with a variety of stones and threads. Other important accessories are rings and necklace that matches with the earrings. You can also wear a nose-ring and maang-tikka when you are going to attend a special event. Anklets and bangles also come in the list, if you are willing to get a perfect traditional look then you can choose them.
A Matching Clutch
Complete your look with a matching clutch. They are available in different shapes and works. A rectangular-shaped clutch detailed with golden embellishments will look really awesome. A colorful round clutch that is decorated with diamonds and zari work can make a cool match with an embroidered slit salwar suit to shine at the party. As you do not have pockets in the salwar suit so you can keep your phone and other things in the clutch and it will also give you a classy and rich look. You can choose a matching coloured clutch or golden or copper-coloured that will match with any attire.
The outfit can be found in the market or you can get it on online stores at low and affordable prices. You can get a collection of wholesale salwar kameez online and get a variety of options in colour and patterns of the outfit. If you don't want to waste your time roaming in the market then you can get it by doing online shopping. You can get desired colour options online that are rarely found in the market. So go ahead and choose the best one for yourself or your loved ones having stylish patterns and designs. Wings2fashion is one of the best Boutique clothing manufacturers in India.