Oscar 2020 Best Dressed Star on the Red Carpet: Film stars look picture perfect almost every time, and they maintain this look of perfectness, all through. As such, films bring us multiple award shows, but there is nothing like the Oscars. It's one of a kind, and the wait for the Oscars is almost breathless. Well, talking of breathlessness, let's see who looked breathtaking in the 2020 Oscars Red Carpet. Wings2fashion is one of the leading women wear manufacturers in India.
Oscar 2020 Best Dressed Star on the Red Carpet
Penelope Cruz– Cruz is an ageless actress who looked fantastic in a 1995 Haute Couture Collection dress by Chanel. The black dress had an asymmetric hemline with a bow and a pearl belt along with a camellia flower.
Must Read : The 3 Styles of Bags You Need to Take You Through Summer
2. Charlize Theron– The black Dior Haute Couture gown fitted Theron's well-sculpted body beautifully. The thigh-high slit with the one off-shoulder look, made her look stunning.
3. Cynthia Erivo-The White Atelier Versace gown with a corset bodice, a high slit, and a creamy flow around Cynthia was something of its own. She had paired it with Maria Tash earrings and added a spark to the already super hot look.
Must Read: How to Dress Up and Dress Down Dungarees
4. Florence Pugh-The Louis Vuitton turquoise tiered dress, a strappy shoulder and an asymmetrical hemline with a long trail gave her a fairy tale look. Her look was completed with a Louis Vuitton High Jewelry necklace and Maria Tash earrings.
Must Read: Winter 2020 Fashion – Here's What I'm Wearing This Season
5. Brie Larson-The sequin baby pink cape Celine by Hedi Slimane is a handmade dress that took over 1200hrs to create. It was worth all its effort as she looked dazzling.
6. Renée Zellweger– The one-shouldered Armani Prive white sequin gown was simple yet mesmerizing making Zellweger stand tall amongst the rest.
Must Read: How to find clothing Manufacturers in India
7. Janelle Monáe-The Ralph Lauren Collection shimmering hand-embroidered gown with Swarovski crystals and the hood stole the show.
8. Rooney Mara– The custom Alexander McQueen black lacy gown with cutouts in the middle was a typical Mara style, and indeed it made her look good as usual.
Must Read: How much does it cost to manufacture clothing in India?
9. Saoirse Ronan-The plunging V-necked Custom Gucci gown was colourful yet elegant in black, ivory, and lavender. The waist ruffles added to its beauty.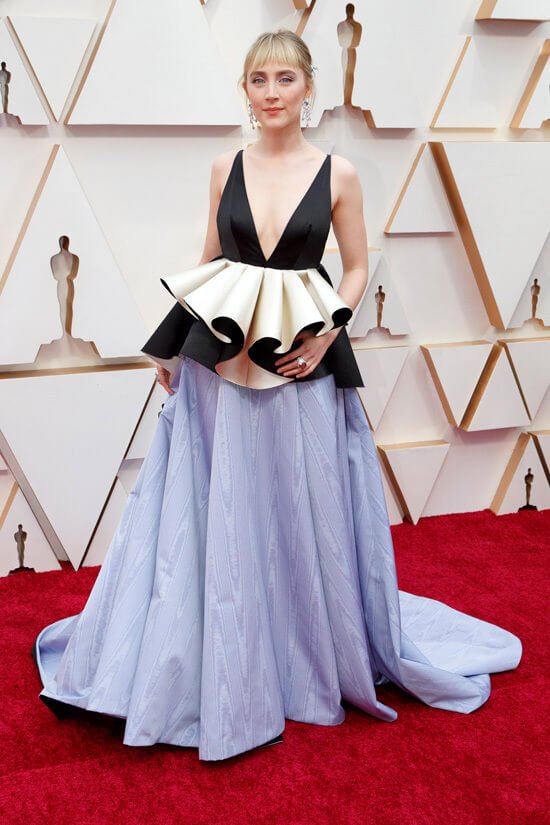 10. Natalie Portman-The Dior Haute Couture gown in black and gold topped with a cape that had all the names of the female directors who were not nominated was a unique way to pay tribute.
Whether you are clothing manufacturers for small businesses or own a clothing factory in India, the Oscars can always be all the inspiration you need for your brand new lines of garments.