You know what is better than working hard? Working smart. Working innovative using proven strategies will take you success in no time. Launching your own fashion business is a challenging task to do in today's era. With so many fashion brands going around, it has become difficult to open a clothing business that creates impact and succeeds.
At the beginning of your clothing line business, your to-do's can seem overwhelming and daunting. In recent years, tough competition has emerged in the industry, which leads entrepreneurs and fashion enthusiasts to launch their own clothing lines and offer something new and unique as there are no barriers defined over who should offer, which is a pretty significant advantage for all the entrepreneurs out there to open a clothing line and offer anything they want to.
How to Start a Clothing Business in India
When starting a new clothing business, or any business, there are a couple of things that you must have, which include a mission, goal, or vision about your main idea. Also, one should be passionate and dedicated enough to run a clothing business. We have together this guide that tells you about the 5 significant things you should keep in mind when starting your own clothing business.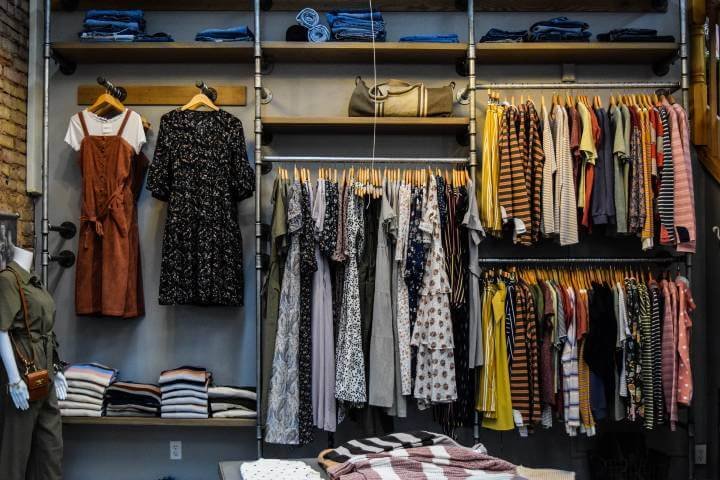 05 Key Points You Should Make Sure to Start an Effective Clothing Brand
01 Brainstorm Your Ideas About Niche
To be good and competent in the fashion industry, you need to have excellent knowledge and excel in the niche you are going to work in. If you have something unique and different to offer, you must know the way how to present it to make it most effective for you. The best practice is to have customers' attention by spotting the gap in the fashion industry or offering a unique design that satisfies the needs of a specific customer group you might already have in your target group.
You can brainstorm your ideas on different niches that are in demand. For example, you can start a clothing line of fan base t-shirts for a specific team based on your audience and its preferences, like you can create a football shirt or any TV show T-shirt. Or you can target traditional or cultural clothing that targets the cultural audience.
So it's essential to know and understand your Niche. After some time, you can branch out to new designs by expanding your clothing line.
02 Know Your Target Audience
Your target audience is an essential part of the fashion industry. There are uncountable groups of an audience divided on the basis of niches and clothing type. For example, the youth likes to wear comfortable and stylish T-shirts. Meanwhile, on the other side, the mid-aged audience would like to have comfortable, decent, and durable clothes.
So, in order to have a successful business, you first need to know everything about your target audience. Firstly you need to know what you are designing and its idea. Is it a standard T-shirt or style-based clothing line? Is it a formal or casual clothing line that you are designing? After this, you need to determine who you are designing for, which means your target audience. Like if you are creating a skin-fit clothing line, then your audience might be a group of people who prefer to have tight clothes or those who are fashion fans.
There is a number of things that you need to focus on when you are determining your target audience, for example, age, gender, preferences, hobbies, activities, how much responsible they are for trends and how likely they follow directions, how quickly they adapt new designs and how much they are willing to spend over a clothing line.
These are some of the essential questions you need to figure out to understand your audience's physique and buying behavior.
03 Manufacturing
Returning to the basics, your product planning journey starts with the design. From the start, you are advised to design a decent, trendy, unique style that never goes unnoticed. You can take assistance from professional graphics designers and apparel experts in designing your clothing line. After you have done the designing part, you can safely move to the manufacturing part.
Now it's time to take your design to the expert clothing manufacturers who can manufacture a clothing line for your brand. Clothing manufacturers are the one who designs and manufactures a clothing line for your business based on your needs and requirements. You can start production of your clothing line with the manufacturer initially by asking them to create a sample product for you. Sometimes, it's not a good idea to place an order or such a significant quantity all at once, so sample development is a good step that you can take to find out if the manufacturer understands the requirements properly or are they able to manufacture the type of product that you are looking for or not.
After you are satisfied with clothing manufacturers, you can pull the trigger and go ahead with bulk production. You should work with an expert clothing manufacturer to enhance your working experience and to receive a good audience response. You should check this article to give you a quick idea about how you find clothing manufacturers.
04 Build a Business Plan
Having a business plan is a long and tiring step, but it is pretty beneficial for your clothing line in the long run. Suppose you plan to take your small business to a large scale. A strong business plan will solve most of the problems for you, as it allows you to set a vision, goal, and mission for your business, and you are most likely to achieve your goals and mission if you have planned it in your business clothing plan.
Moreover, you can also mention your budget and finicalities in your business plan. Furthermore, you can also mention any clothing manufacturer if you are working with one. These are the following number of things you can mention in your clothing line business plan.
Executive summary
Company Overview
Products or services you are offering
Marketing Plan
Sales strategy
Competition Analysis
Operational strategy
Production plan
Financial plans
It's best to keep your business plan short, brief, simple, and straightforward to understand there is no unnecessary need to over-define things by using fancy words, and it's always a good idea to keep a business plan simple, decent, and unique.
05 Create Brand Awareness
When you are a startup in the fashion industry, it should be your priority to create awareness for your clothing brand. You should raise awareness of your clothing line by creating high-quality designs. Consumers get attracted by unique new styled products, so you are more likely to attract new consumers with a particular clothing line.
Marketing over social media is the best way to create brand awareness about your clothing line. Nowadays, everyone who follows fashion trends or is a fashionista is on social media apps. Social media is the best way to reach them instantly and let your audience know about your brand's existence. You can also use email marketing to target your consumer groups, or outdoor marketing, like banners, billboards, pamphlets, and more. So far, social media marketing is the far best option to create brand awareness and gain popularity among the target audience.
Also, there are a number of things that also play an important part in building your brand image. For example, your brand's name should be easy to pronounce and remember and refer to the type of product you can sell in the market. Moreover, your business logo also is an essential key part of your business, and it's your brand logo that represents your brand to the outer world, so it should be unique, artistic, and made up using a unique combination of colors that it throws a good and easy to remember impression over the consumer.
These are the little details you must ensure in your clothing business because the fashion industry is a vast market with cutthroat competition, so it's better for you to hold every rope that can take your brand to success.
Conclusion
So these are the top 05 things you should keep in mind when starting your own clothing business. All of these mentioned strategies, tips, key points, or advice can help you stand apart from your competition and outgrow your business. Meanwhile, it's an important advice for you to constantly review your business model from time to time and make complete changes in the business model to stay updated.
To wrap up, when you are starting a clothing business, you should brainstorm ideas over the Niche that you will be selling, you should know your target audience well, you should have a marketing plan for brand awareness, along with a strong business plan to support your clothing business in the longer run.