VCH piercings might sound exclusive, but the reality is that they and various other types of vagina piercings are quite common. Studies have found that just 2% of women go for such piercings. And there are good reasons why these women choose clit piercings; they are sexual pleasure and better appearance.
VCH or Vertical Clitoral Hood piercing is undoubtedly a popular type of female genital piercing and is also one of the most functional piercings one can get. That's because it enhances sexual pleasure while making sexual stimulation more intense.
Yup!
Sexual benefits of this kind of piercing are the main factor behind more and more women going for these piercings. There's a search backing this fact!
VCH Piercing Rings
Now coming to the different varieties of VCH piercing rings, there are some popular choices available. Let's have a look:
Captive Bead Ring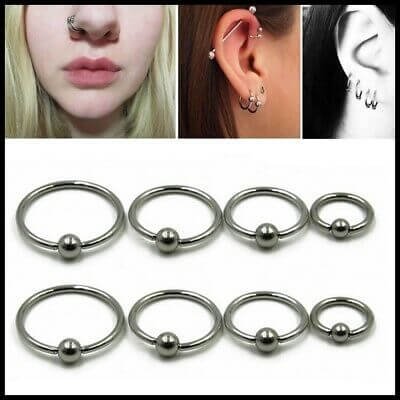 The captive bead rings are one of the most popular choices in the category of VCH piercing rings mainly because the beads of the ring sit comfortably on top of the clit. Thus, it offers the piercing an amazing stimulation, mainly targeted stimulation.
However, some women prefer barbells or rings, and for such exclusive preferences, there are a plethora of options available in the market.
Circular Barbell Rings
Circular barbell rings are out and out the most commonly used VCH piercing rings mainly because they easily follow the shape and the size of the clit. It is this feature that allows the barbell rings to comfortably rest on the clit.
And yes, another great thing about using these rings is that they remain tucked away and conveniently protected from allergies and irritation while a woman goes about with her regular business.
The circular barbell rings available in classic belly ring designs or the ones with small threaded ends in opal, gem, or ball style are considered the best.
Hoop Rings
The hoop rings make for flashy VCH piercing, while the ones with smooth balls at one end are in huge demand. These come with bezel-set gemstones on the other end, bringing some serious attraction and bling to the lady parts.
You even be a bit classy by going for faux turquoise or pearl hoop rings. Nevertheless, the best option would be to have a word with your piercer and then go with your preferences. This way, you will get the best suggestions on the styles you must go for.
Handcuff Dangles
These are long VCH piercing rings, but they can also be trimmed to the desired length. As is suggested by the name, they come in handcuff style and dangle from the clit. They even have stainless steel balls at one end.
VCH Shield Rings
Again, as suggested by the name, they serve as a shield or covering for the clit and are quite comfortable as well. These are generally made of solid steel. One thing noteworthy about these rings is that they can reduce the wearable portion of the VCH piercing.
Conclusion
When going for VCH piercing rings, you do not know how the piercing will react, and therefore it is always excellent to experiment with different styles. Try out different ring styles until you get hold of one that works best and offers you the most pleasure!