Yoga wear manufacturers: Women usually struggle with their clothes, primarily when performing some of the
difficult asanas. During yoga, you're going to moving into kinds of poses and
your clothes need to follow you, and not restrict your movement. So you need an
ideal top and bottom to encourage you to do more yoga.
If you have a conflict with your tee during headstand (Sheersha asana) or were bothered about tearing your tracks while stretching in downward dog pose (Adho Mukha savasana), so this post for you.
Purchasing the best yoga clothes is totally dependent on your personal preferences, as well as the way of yoga you plan to practice. But at a high priority, see below:
Flexible, Breathable bottoms.
Narrow- or form-fitting top that won't hang.
Built-in shelf bra or sports bra that gives enough support.
Features to Think When Shopping Yoga Clothes for Women:
Most of the yoga clothes are made with polyester-nylon-spandex combinations, and for a valid reason—these fabrics provide the right balance of flexibility, breathability, and comfort:Yoga wear manufacturers
Fit: pick the yoga cloth that fits perfectly not too tight or not too loose. Use the outfits that have enough fit and stretchability a bit snugly so you and your instructor can monitor your movements properly.
Must Read: 8 Things You Will Love About Your First Bespoke Suit
Flexibility: As we know that yoga means stretching, bending, rolling. This means your clothes have to be ready to follow these actions without any trouble. So make sure your clothes made with at least 15% spandex.
Breathability: If we talk about breathability, then it depends on your body behavior, maybe you sweat alot or little. Notably, if you're sweating a lot, it's important to wear breathable and moisture-wicking fabrics to maintain you cool and comfortable. Yoga tanks, shirts, pants, cutouts with mesh pockets will all improve breathability. You have to avoid cotton because it holds moisture, makes you feel wet and hot, then transmits you getting prone or chilled to chafing when class winds down.
Comfort: Practicing complicated yoga poses with uncomfortable clothes is a really dangerous and worse situation. Everyone wants to concentrate on the body during yoga, don't want to focus on fabric that chafes and binds, itchy tags and seams, saggy or too tight waistbands.
Yoga wear manufacturers
Must Read: 10 Top Floral Dresses For Every Woman In Summer
Types of Yoga Clothes for Women:
When we talk about yoga clothes for women there is a number of fabrics, brands, designs, styles, opportunities available in the market. Here are some recommendations that will help you choose the right clothing that is fit for yoga classes?
Shirts, Tanks, Tops, and Bras:
Many professional yogis like to wear form-fitting T-shirts tops or tanks that fit ideally around the hips and waist, no matter it's fashionable and style. Tops made with breathable materials, moisture-wicking and smooth seams are also a magnificent idea for sweaty classes; avoid itchy tops and tags that rub under your armpits. Yoga wear manufacturers
Must Read: Top 10 Best T-Shirt Brands In The World
Leggings, Shorts, and Harlem Pants: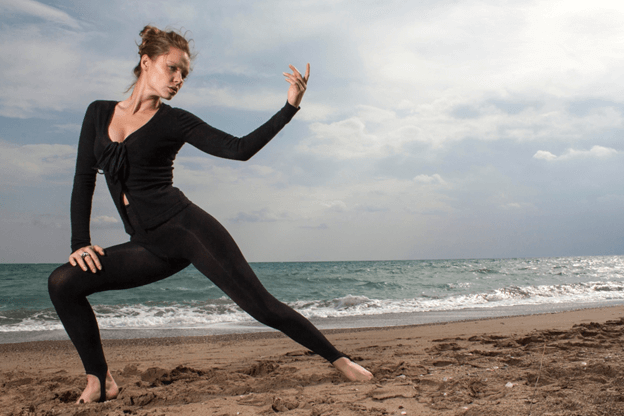 Many high-level yoginis and students prefer to wear loose-fitting Harlem pants
during yoga. But if you are just new in the yoga world then we recommend you to
use yoga pant or legging or capris. It provides
you a great combination of breathability, flexibility, and comfort.
Polyester-Nylon-Spandex mixture legging or pants are the best options, as they
follow you through a position as well as wick moisture.
Gloves and Socks:
Generally, yogis practised with naked feet and hands. But some prefer to wear socks and
gloves during yoga class because they want enough traction from the surface of
the mat. Yoga socks made with plastic threads on the bottom to inhibit sliding,
yoga also get yoga toe socks. If you are looking to wear yoga gloves and socks
then you must prefer stretchable and lightweight material. Looking for Yoga wear manufacturers just contact us.